LARGE VICTORIAN BUILDINGS PRESIDE AMID GREENERY
CARD POSTED IN 1910 READS "THIS IS A FINE CARD FOR YOUR COLLECTING."
THE HEART OF WILMINGTON
A 1910 View of the Victorian Heart of Wilmington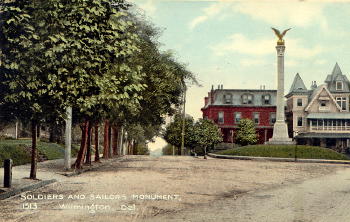 Delaware and Franklin's Intersection
Once the Trolley Line was linked with lower Delaware Avenue in the later years of the Nineteenth Century, Wilmington's substantial bourgeoisie constructed their Queen Anne and French Empire-style houses here. This is the neighborhood I consider the "heart of Wilmington" -- where its ghosts and spirits linger, and where I was priveleged to live for a period in the last century. It is where Wilmington's Mayor lived and Howard Pyle painted and where Mrs. Tatnall began her school while the dedicated Ursuline Nuns gathered to teach at their Academy on Pennsylvania and Franklin.
The Interstate-95 construction in the late 1960's and early 1970's left an irreparable loss along Delaware Avenue and near Cool Springs, too, devastating urban pockets that were once full of charm and grace, and destroying whole blocks of Victorian neighborhoods in order to protect far-flung suburban holdings whose residents, though outwardly affluent, had no conception of preservation, or even of their past. This is the legacy of a narrow and aesthetically uneducated mindset that, in the immortal words of Oscar Wilde, "knows the price of everything, but the value of nothing."
Even now, decades later, this loss is palpable to the city wanderer. Or perhaps it is but part of nostalgia, the larger regret one suffers living forever at remove from a beloved place, and left only clutching postcards from the past. . .
Donata Lewandowski Guerra
(for my father Edward W. Lewandowski of Wilmington, Delaware 1922-2001)